Simply Ghee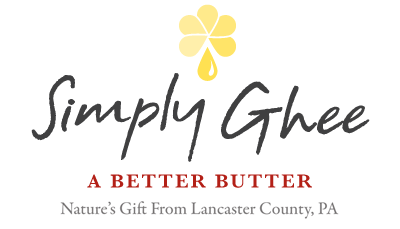 We are Bev and Nancy, longtime pals and founders of Simply Ghee. People call us the "Ghee Gals." We both reside in the heart of Lancaster, Bev is the city dweller and Nancy lives in the "burbs" of Lancaster County.
We are often asked how we got this business started. We almost never have a short answer but here you go…
Butter is IN and Margarine is OUT.
The market for local foods is explosive! Consumers want healthy foods that actually taste good.
Then we discovered all this right here in Lancaster County:
A premium butter
A most gracious production facility
An awesome crew to help us produce our ghee
An outstanding business to supply our jars
So we said, WHY NOT?? It was that simple!
We are grateful you are here and glad you enjoy our products. If you are new to ghee or just curious, this says it all…
If you like butter, you will LOVE Simply Ghee! Oh yes, Simply Ghee Original is produced from 100% organic grass-fed butter. No grains, no corn, no soy whatsoever so, your nutritional value remains.
Average Vendor Rating
A better butter that actually IS butter? Need we say more? Awaken your palate with the best kept secret of ghee.
What is ghee? Ghee is the pure extraction of oil from butter. Through a gentle heating process, the moisture and milk solids are removed leaving golden butter oil. The oil solidifies as a spread to apply every way butter is used. Simply Ghee sources organic, unsalted butter from Lancaster County grass-fed cows.
Why ghee? Our mission is two-fold. To encourage a healthier lifestyle by promoting the benefits of a diet that includes ghee as well as supporting our local organic farm community.
*Visit their website to learn more: SIMPLY GHEE
Showing all 4 results