Columbia County Bread & Granola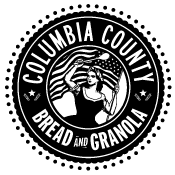 Columbia County Bread & Granola is a group of bakers, designers, packers, a pretty snarky bookkeeper and, if you can believe the second shift bakers, a ghost…
A night janitor, or so they theorize.
But it's not like he comes in and cleans or anything like that – that would be truly great. In any event, we like to say we have reinvented bread and kicked the oats out of granola. Literally.
Average Vendor Rating
COLUMBIA COUNTY BREAD & GRANOLA IS A GROUP OF BAKERS, DESIGNERS, PACKERS, A PRETTY SNARKY BOOKKEEPER AND, IF YOU CAN BELIEVE THE SECOND SHIFT BAKERS, A GHOST...
A NIGHT JANITOR, OR SO THEY THEORIZE.
BUT IT'S NOT LIKE HE COMES IN AND CLEANS OR ANYTHING LIKE THAT - THAT WOULD BE TRULY GREAT. IN ANY EVENT, WE LIKE TO SAY WE HAVE REINVENTED BREAD AND KICKED THE OATS OUT OF GRANOLA. LITERALLY.
Showing all 8 results