Here's a helpful list of commonly asked questions  🙂
How do I place my order? 
Before you begin, please check the top of the page for a yellow banner as seen below.

The text inside this yellow banner will always display important information such as the current order deadline and fulfillment dates. As well as any other information it would be important to note BEFORE you order. Now that you have taken note, let's get started 🙂
Hover your cursor over the icons at the top of the homepage screen. You will notice a menu appears with related categories below each icon. You can click on the main icon such as "what's cooking" to take you to the page with all of the prepared food items. Alternately you can select a category from the drop down menu such as "soups on", as seen highlighted below, that will take you to our soups that week.

Each icon and subsequent categories can be navigated in the same way. Below you can see that I have selected the "meats and seafood" category found under the "grocery" icon. You can then add items to your "cart" by selecting the "add to cart" button or "select options" button for products with multiple options such as size or weight.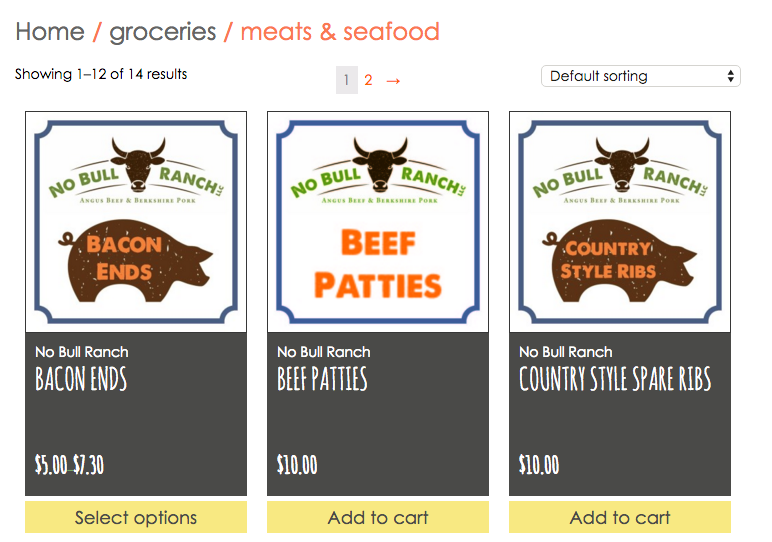 If you would like to learn more about a product or it's vendor simple click on the image itself and it will take you to the product's page as seen below. Here I can select the quantity I want.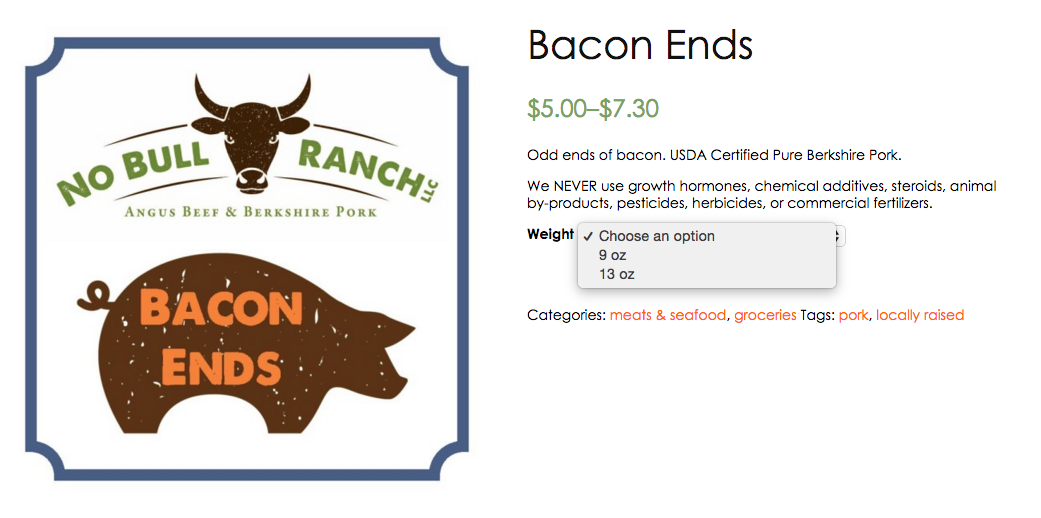 You will also notice a simple menu that appears on the left hand side of the screen. It is visible on most pages of the website and has many easy options you can select to sort our products by category, vendor or product type such as "vegan" or "gluten-free". Simpley click on the main text to expand the menu as seen below.
Once all the items you have selected for purchase are in your "cart" you can proceed to checkout by clicking the "view cart" button that appears once an item is added or click the "basket" icon at the top right of every screen located in the green bar seen highlighted in blue here.

Once you are in the "cart" it will prompt you to choose a "shipping" option. If you would like to pickup your order choose "local pickup" if you would like a delivery please choose "local delivery" (delivery fees may apply, see below). Then select "proceed to checkout", you will be asked for your billing details and to set up an account with us if you have not already. We recommend this step if you plan to order frequently as it will make the process quick and easy. Once you have an account with us there will be no need to refill out this information every time you purchase, it will simply be there.
There will also be a section, as seen below, labeled "order notes", please use this to give us any details important to your order such as food allergies or delivery instructions. Please also note that above this you will see the question "ship to a different address?". Select this box if you would like your order delivered and the delivery address differs from your billing address. A field to enter that address will then appear.

Finally you will be asked to enter a payment method. We accept all major credit and debit cards. We do not accept cash payment or checks for online orders. Whether you plan to pickup in person or request a delivery, it must be paid for online with the placement of the order.
Our site has a private secured SSL certificate and carries a Verified Merchant Seal from Authorize.net. It is considered very safe and secure as we are not a national brand and would be a highly unlikely target for any malicious intent. You have the option to keep your prefered methods of payment on file in your Chic Chic customer account for an easy and secure checkout. Just as you would with a PayPal or Amazon account, it makes the process very easy with only a few clicks. You can also check out as a guest or with an account but without the option to store the payment information. The choice is yours, happy shopping!
When will my order be ready? Current orders fulfillment dates are posted in the yellow banner at the top of each page ALWAYS CHECK THE BANNER BEFORE ORDERING. We run on a Sunday to Sunday schedule. For example: If you where to place an order on Sunday, your order would be available 3 days later on the Wednesday of that same week. However, if you where to place the same order the next day, on Monday, that order wouldn't be available until the following week.
Currently pickups are on Wednesdays and Fridays(Friday menu only) between 3-6 pm. Deliveries are scheduled for Wednesdays only at this time but we are trying to change this so stay tuned. All Deliveries occur between 1 & 6pm. We are not currently able to schedule deliveries. Please leave a cooler out if you may not be home. Click here for details.
Am I in your delivery area? Click here to find out
What do you charge for delivery?
Delivery is FREE  w/ orders of $39 or more, all other orders will incur a $5 delivery fee…that's not so bad, eh?
Where are you located?
Our storefront is located at 970 Wyoming Ave. Forty Fort PA. Our regular buisness hours are Tuesday – Friday 10am until 6pm, Saturday 10am – 2pm.
What if I am not home for a delivery?
You will have the option to provide us a drop-off cooler to facilitate the delivery of your order if you are unavailable to receive it in person. We can not be held responsible for the welfare of your order after delivery. Please make sure proper arrangements are in place prior to the arrival of your order. We have a limited number of coolers available for unforeseen circumstances.
Why won't my card go through?
Our system will not process a card whose billing address does not match the one on file. Please double check that the billing address you have entered on our site matches the one on file with your creditor or bank.
You can check out our terms & conditions here
**Have a question, but don't see it listed below? Please email us at hello@chichicmarket.com