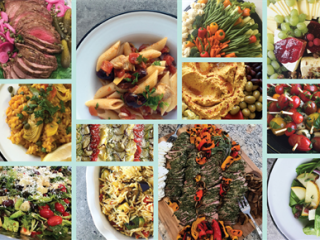 We have revamped our Trays Menu! New options, adjusted pricing, and more pickup options! We are always looking for ways to better meet your needs for convenient, affordable, unique, scratch-made food. Not familiar with what our Trays Menu has to offer… or how it all works? Well follow me!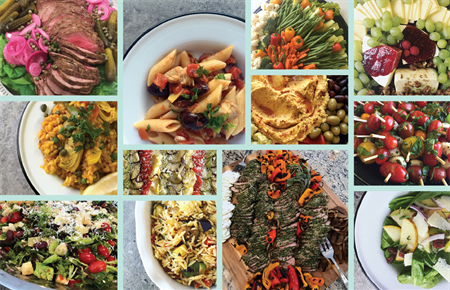 Whether you are planning to feed a crowd or just your family, our "Grab-N-Go" trays can be a valuable tool. Designed to give you the most bang for you buck while providing you with everything from an impressive party spread to a month's worth of quick affordable meals. We strive to fill the gap between expensive full-service catering and the same-old lack luster grocery store options. Our food is always made to order, the old fashioned way, with lots of care. And, since everything is made in-house and from scratch we are able to accommodate special dietary needs and custom requests that others cannot.
If your planning a large event such as a wedding, graduation or family reunion, we can help you with a menu that gives you the most value for your dollar. Our menu provides estimated servings per tray, but these numbers can become inaccurate when it comes to larger events. We will work with you to accommodate your guests without the risk of running short or being left with excess and waste. We have 10 years experience in the business, and we consider ourselves a pretty accurate guesstimater 🙂
While the possibilities are near endless, here is a quick little menu to illustrate. This is a real life wedding we put together with a client from last fall. The guest list was 110 and we were able to put a pretty amazing menu together, appetizers and all, for $11.54 a person. Eleven dollars and fifty four cents a person!!! That's right.
Hummus & Olive Bar Platter- Our classic scratch made hummus served with artichoke hearts, roasted red peppers and a medley of olives.
Gourmet Cheese Tray- Aged cheddar served with crisp grapes, Creamy wedge of Bleu Cheese topped with local honey and candied walnuts, and Decadent Brie topped with raspberry preserves.
Crudité Platter– Fresh veggies with a creamy herbed dip.
Chicken Piccata w/ Fresh Lemon
Greek Style Meatballs w/ Tzatziki Sauce
Mediterranean Baked Orzo– Roasted eggplant and zucchini tossed with fresh mozzarella, roasted garlic and chopped tomatoes.
Roasted Red Potatoes w/ Butter and Fresh Rosemary
Roman Green Beans in Tomato Garlic Oil
Baby Spinach Salad w/ Fresh Pear and Shaved Parmesan in a Cider & Sage vinaigrette
Now that is how you please your guests and your client's bank account… and they both were 🙂
Say your not the entertaining type, let's talk about how this menu might apply to you. We would all love to buy ourselves a little time right? Last I checked more hours in the day were not up for sale, however, convenience is. Whether you are looking to avoid the kitchen just a few days a week, trying to save money on constantly eating out, or stocking your freezer with easy healthy meals as to avoid temptation… we can help! Many of our dishes can be easily portioned and frozen making them perfect for meal planning! With budget friendly options coming in at as little as $3 per meal! We will happily work with you to meet any budget 🙂
Here is an example I've shared before from a customer who was looking for an easy way to feed a vegetarian member of their family. The rest of the family ate meat, and as I'm sure many of us can relate to, playing short order cook is a no fun game. When it comes to pleasing fussy kids, catering to a special diet or caring for an elderly family member we could all use an easy solution. Here is what I suggested for her:
Total: $225.00 for approx. 54 meals at $4.16 per meal
1/2 Tray Mediterranean Orzo
1/2 Tray Tofu Stir Fry
1/2 Tray Messie Jessies
1/2 Tray Smoked Gouda Mac *sans bacon
1/2 Tray Roasted Broccoli
"The orzo bake is a complete meal in itself as is the stir fry, but you could also serve that over rice or noodles to stretch it. The Messie Jessies are great on a bun, in a wrap or over rice for a sort of "chili and rice" style dish. I would pair the mac and roasted broccoli for a bit of balance, although the mac is very substantial all on it's own."
I hope I gave you some insight and ideas as how you can best take advantage of our Grab-N-Go menu. If the whole idea still seems a bit overwhelming… I invite you to stick your proverbial big toe in by checking out our weekly featured tray. With no minimum to buy we pull a favorite tray from the menu and feature it weekly. Orders are due on Wednesdays at 1pm for Friday pickup (3-6). Perfect for weekend guests, a dinner party, potluck, or just because!
We would love to talk about all the possibilities with you, yes all of them! Shoot us an email at order@thesoupchic.com with your ideas and goals. We look foreword to it 🙂