"Autumn…the year's last, loveliest smile." ― William Cullen Bryant
We couldn't agree more Bill! Here is a short list of some of our favorite ways to celebrate the BEST season of the year. Number one… is buy more soup, of course, then proceed to the following activities and enjoy!
Bloomsburg Fair Sep 24 – Sep 30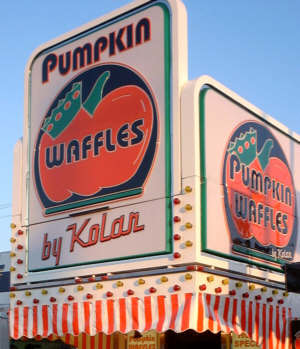 What would Fall be without the Fair?!?! It is the grand ball of the season…. go, eat, ride, repeat! For more info go to www.bloomsburgfair.com
Dymonds Farm Hayrides and Pumpkin Patch Sep 24 – Oct 30
Enjoy a wagon ride to the pumpkin patch on one of NEPA's prettiest farms. Don't forget to grab some of thier famous baked goods on your way out! Open every weekend during regular hours at 352 Brace Rd. in Orange PA. Click here for directions or call (570) 333-5011
12th Annual Noxen Intertribal Fall Pow Wow  Sep 24 – Sep 26
Have you ever wanted to go to a pow wow? Here is your chance! Native dancers, foods, crafts and more. Go to www.powwow-power.com for info.
APPLE + CHEESE FESTIVAL Sep 24 – 25
Saturday and Sunday 10-4. Featuring local cheeses from Leraysville Cheese Factory, locally grown apples and cider from Grassy Ridge Orchards, and lots more! Food, live music and fun! Go to www.creeksidegardens.com for more details.
Pumpkinland at Dundee Gardens Oct 1 – Oct 30
Every Saturday and Sunday in October from noon – 5! History of Halloween hayride, pony rides, haunted house, obstacle course, pumpkin painting, inflatable maze, seasonal food and beverages, Native American Teepee. Go to www.dundeegardens.com for more details.
PEEC Harvest Festival Oct 1, 2016 10:00 AM – 4:00 PM
Celebrate the season with the beauty of the Delaware Water Gap National Recreation Area. For info go to www.peec.org
Fall Foliage Weekends in Jim Thorpe Oct 1-2, 8-9 and 15-16
One of my favorite places on earth! Take in the Fall weather with a visit to the  "Switzerland of PA". A village nestled into the mountainside along the Lehigh River and forgotten in time. Take a ride on the Lehigh Gorge Scenic Railway (get the open air ticket for the best ride!) then have a drink on the veranda of the Harry Packer Mansion, you won't regret it.
Colonial Harvest Fest  Oct 2, 2016 1:00 PM – 5:00 PM
Held at the Nathan Denison House, 35 Denison Street, Forty-Fort, PA. I love this event! The home is charming and the demonstrations and volunteers are very informative. Demonstrations will include, spinning, colonial firearms, hearth cooking, herbs, embroidery, quill and ink, children's crafts, Revolutionary War soldier uniform dress and accoutrements, blacksmith, frontiersman, hand log sawing, and many more. There will also be food and drink for sale. All children will receive a free pumpkin to decorate themselves at the children's craft room. More info.
Moon Light Maze at Whistle Pig  Oct 7 – Oct 8  / Oct 14- Oct 15  /  Oct 28 – Oct 29
Bring your flashlight and navigate the maze at dark! Last entry to maze is 8pm, go to whistlepigpumpkin.com for more info. They do hayrides too!
ELK MOUNTAIN FALL FESTIVAL Oct 8, 2016 12:00 AM – midnight
A great place to enjoy the fall foliage and so much more. Go elkmountainarea.com for details.
Quiet Valley Farm Harvest Festival Oct 8, 2016 – Oct 9, 2016
Quiet Valley Living Historical Farm is hosting it's 42nd annual Harvest Festival. Open 10am to 5pm both days rain or shine. Come enjoy harvest time on the farm. Learn about heritage crafts and traditional skills such as spinning, weaving, broom making, scrapple making, apple butter making, basket making and candle making. There will also be plenty of folk entertainment, good country food, children's activities, pumpkin decorating, a quilt raffle, pony rides, horse drawn wagon rides, one room schoolhouse presentations, outdoor brick bake oven and much more. Go to quietvalley.org for details.
Heritage Day at Frances Slocum  Oct 9, 2016 12:00 PM – 5:00 PM
If you have never attended this event you are missing out! Spend a day at this beautiful park celebrating nature and our history. Click here for more info.
Heller's Orchard Fall Apple Festival
This festival has it ALL! Butter churning… check, cross cut saw competition… check, feed bag race… check, frying pan toss?!?!? check! Plus like a million delicious thing to eat made with apples. See. You. There. Click here for more details.
Pumpkin Festival at Ol' Country Barn Oct 15 – Oct 16
You guys! How cute is a pumpkin festival at the Ol' Country Barn eeehhhh? Click here for more info.
The Pumpkin House at Creekside Gardens Oct 21, 22, 23
Friday Saturday and Sunday 6pm-9pm. Experience over 400 glowing carved pumpkins on display along with food, live music, campfire and more! Join the staff and come dressed in costume! All the details at creeksidegardens.com
Haunted Halloween Lantern Tours Oct 21 – Oct 22 and Oct 28 – Oct 29
Ghoulish fun for the entire family! As you are guided down the dark streets of Eckley…watch out for ghosts and goblins! Bring your own flashlight or purchase a lantern in the museum lobby or gift shop. For details go to eckleyminersvillage.com
Colonial Superstition, Folklore and Witchcraft Tour Learn how Colonials protected themselves from witches and masquerading devils by candlelight. Inside the Nathan Denison House 6pm – 9pm. Click here for details.